NANTES AIRPORT (NTE) INFORMATION
Origin
Airline
Flight no.
Scheduled
Est./Actual
Status
No flight arrivals were found at Nantes Airport.
Destination
Airline
Flight no.
Scheduled
Est./Actual
Status
No flight departures were found at Nantes Airport.
Car Hire at Nantes Airport
UNBEATABLE VALUE CAR RENTAL
Free Amendments | Free Cancellations | No Card Fees




Nantes Atlantique Airport - All Information on Nantes Atlantique Airport (NTE) Nantes Airport
44346 Bouguenais, France
phone +33 892 56 88 00
phone(+33) 0 892 568 800 (Lost + Found)
Facts and History about Nantes Airport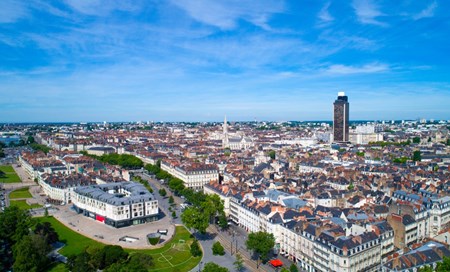 Nantes Atlantique Airport (NTE) serves the city of Nantes, France. In its earlier incarnation, it is also known as Aéroport Nantes Atlantique in French and Aéroport Chateau Bougon. The city of Bouguenais is located 8 kilometers to the southwest of this location.
Nantes Chamber of Commerce and Industry is the organization in charge of running the airport. The airport only has one passenger terminal, which is in the shape of an 'L,' and is broken up into four numbered halls.
The baggage claims and check-in areas are located on the ground floor of the same two-story structure as Halls 1 through 3, which form the long side of the letter 'L' at the airport. The departure lounges are located on the upper level of the building. Hall 4 is in a subsequent single-story building at angles to the previous structure. However, it is connected to the earlier building via a lobby.
The airport also features a separate freight terminal that is located to the south of the passenger terminal. This terminal contains entrepôt storage space that is 6,000 square meters in size. In addition, the Airbus Nantes plant is located close to the passenger terminal. This facility specializes in constructing the center wing box for the Airbus fleet of airliners and creating structural components utilizing composite materials.
Nantes Atlantique Airport can be found just outside the Périphérique de Nantes, the city's outer ring highway. It is connected to it by a short access road. The term "périphérique" refers to the network of highways and motorways surrounding the city of Nantes and connecting it to the rest of France. The terminal area contains several vehicle parks, some of which are open-air and others of which are covered. Each car park has its rate structure.
The 'Navette Tan Air,' a high-speed shuttle bus, connects a stop outside the airport terminal to Nantes station and the city's central business district. Although this service is included in the TAN public transportation network in Nantes, the fee for the entire trip is more expensive than the fare for the regular network.
Alternatively, route 38 of the TAN bus system can be utilized to travel to Pirmil, and route 98 of the TAN bus system can be used to get to Neustrie. At Neustrie, a connection to line 3 of the TAN tram system can be made by paying the standard network ticket.
History of Nantes Atlantique Airport
The existing airport in Nantes was initially envisaged as a military airstrip in 1928 on a portion of the airport's land. The Société Nationale de Constructions Aéronautiques de l'Ouest established an aircraft factory next to the airfield in 1936 or 1937. The plant initially produced MB.210 bombers, then made M.S.406 fighters and bombers. It wasn't until 1939 that the world's first paved runway was built and measured 900 meters in length.
During World War II, the airfield was temporarily utilized as an airstrip by the British Royal Air Force before being overrun by German troops. Those forces afterward used the airport. When England was under German occupation, aircraft production was forced to shut down. The Luftwaffe commandeered the airfield for use as a bombing base against targets in England. As a direct result, the airport was severely damaged by an air raid on July 4, 1943, which destroyed the adjacent aircraft factory.
Following the conflict's conclusion, the airfield was again placed into use by the French Air Force. Before becoming a part of Airbus, the aircraft factory was reconstructed. It has since been responsible for constructing components for the Vautour fighter and the Caravelle airliner. The first commercial operations began in 1951, and between 1954 and 1960, a brand-new terminal and runway extensions were built so that the airport could accommodate larger aircraft.
At present, Nantes Atlantique Airport is the largest airport in the western region of France. It was proposed that it be changed to an airport called the Aéroport du Grand Ouest, which would have been located 30 kilometers (19 miles) to the north of Nantes in the "commune" of Notre-Dame-des-Landes.
In February 2008, the 580-million-euro project was given the go-light and was scheduled to open in 2017. On January 17, 2018, the project was finally scrapped after nearly four decades of debate over whether such an airport would be beneficial and what kind of influence it would have on the surrounding area.
Emiliano Sala, an Argentine football player, was aboard a two-seater aircraft that took off from the airport on January 19, 2019, bound for Cardiff, Wales. The crash in the English Channel claimed Sala's and the pilot's lives. The subsequent inquiry revealed that the aircraft was not airworthy, that the pilot, David Ibbotson, did not have a license to transport passengers, and that he did not have permission to fly at night.
About Nantes, France
Nantes, a city in Loire-Atlantique, is located on the Loire, some 50 kilometers (31 miles) inland from the Atlantic Ocean. The city proper has a population of 314,138 people, but the metropolitan region has close to 1 million people. Nantes is the sixth largest city in France (2018). Along with Saint-Nazaire, an important port on the Loire River, Nantes forms one of the most significant urban agglomerations in the northwestern region of France.
It serves as the capital of the Loire-Atlantique department and the Pays de la Loire region, one of the 18 regions that make up France. It is debatable whether Nantes should be included in the present administrative territory of Brittany because the city has deep historical and cultural roots in Brittany, formerly a duchy and a province.
Nantes was already known as a port on the Loire during classical antiquity. Before the Bretons took it over in 851, it served as a diocese when the Roman Empire was coming to an end. Although Nantes was the principal home of the dukes of Brittany during the 15th century, Rennes eventually became the province's capital with the unification of Brittany and France in 1532.
After the French colonial empire was established in the early 17th century, Nantes began its slow but steady ascent to the position of France's most important port. It was responsible for about half of the French Atlantic slave trade in the 18th century. Nantes experienced an economic downturn as a direct result of the French Revolution; however, the city rebounded and created thriving businesses around 1850, chiefly in shipbuilding and food processing. The city was forced to transition into a service-based economy throughout the latter half of the 20th century due to deindustrialization.
The city of Nantes is known for its high quality of life. In 2013, it was awarded the title of European Green Capital. The European Commission took note of the city's efforts to cut down on air pollution and CO2 emissions, its high-quality and well-managed public transportation system, and its biodiversity, which includes 3,366 hectares of green space and many protected Natura 2000 areas.
Weather in Nantes, France
The summers are mild, the winters are brisk and windy, and it is consistently partly cloudy throughout the year. Nantes is in France. The average temperature throughout the year is between 37 and 77 degrees Fahrenheit. It very seldom drops below 27 degrees or climbs over 88 degrees.
According to the tourist score, the period beginning in the middle of June and ending in the middle of September is the most favorable time to travel to Nantes for outdoor activities requiring mild weather.
The warm season begins on June 12 and continues until September 16, when the average daily high temperature is above 71 degrees Fahrenheit. July is the hottest in Nantes, with an average high temperature of 76 degrees Fahrenheit and a low temperature of 58 degrees Fahrenheit.
The cool season begins on November 18 and continues until March 8, when the average daily maximum temperature is below 53 degrees Fahrenheit, while January is coldest with 37 degrees Fahrenheit and highs of 48 degrees Fahrenheit.
There is a significant seasonal difference in the typical cloud cover as measured by the proportion of the sky covered throughout the year in Nantes.
In Nantes, the clearer part of the year begins around May 16 and continues for approximately five months, ending around October 12.
The sky in Nantes is at its clearest on average during July. October 12 marks the beginning of the cloudier half of the year, which continues for around 7.1 months and ends around May 16.
January is the cloudiest month of the year in Nantes, with an average of 66% of the time spent with the sky being overcast or largely cloudy.
There is about a 25% probability of precipitation falling on any given day during the wetter season, which begins on September 23 and continues until May 25. In Nantes, December typically sees the most rain, with an average of 10.0 days receiving at least 0.04 inches of precipitation during the month.
The drier season begins on May 25 and continues until September 23. This time accounts for 3.9 months. August is the month in Nantes that receives the least amount of rain overall, with an average of 5.2 days receiving at least 0.10 centimeters of precipitation during that period.
Rain can be expected in Nantes at any time of the year. December in Nantes has an average rainfall of 6.5 centimeters (2.5 inches), making it the wettest month. August in Nantes sees the fewest raindrops on average, with only 2.8 millimeters falling throughout that period.
The period of the year with warmer water lasts almost four months, beginning on June 20 and ending on October 1, with an average temperature higher than 62 degrees Fahrenheit. August, an average temperature of a comfortable 65 degrees Fahrenheit, is the month of the year in Nantes when the water is at its hottest.
The period of the year with cooler water lasts for about four months, beginning on December 19 and ending on April 9; during this time, the average temperature of the water is lower than 52 degrees Fahrenheit. February is the month of the year in Nantes when the water is at its coolest, with an average temperature of 48 degrees Fahrenheit.
Transfer Services at Nantes Atlantique Airport
Once you've arrived in the city, you have a few options for getting around. Numerous routes on the cheap and dependable bus system will transport you to all the major attractions. Taxis can be flagged down on the street or called in advance. You can rent cars to go sightseeing beyond the city limits.
Getting to and from Nantes Atlantique Airport is easy because of the various transportation choices available. Due to the variety of options, choosing a suitable and affordable service should be possible.
Rental Car Services at Nantes Atlantique Airport
Nantes Atlantique Airport, located in the French region of Loire-Atlantique, is the primary airport servicing Nantes. It's a quick trip to your rental car from the airport, located just 8 kilometers southwest of the city center. There are many different vehicle rental agencies to pick from at the airport, so you can find the one that works best for you. See and compare all rental car companies at Nantes Atlantique Airport.
At Nantes Atlantique Airport, you can rent a car suitable for city driving and touring the surrounding countryside.
Rideshare Services at Nantes Atlantique Airport
The airport of Nantes-Atlantique has introduced a new smartphone app that facilitates rideshare services. The software lets users pre-book rides and make payments from their iOS or Android device. There are plans to expand this service to travelers using other airports, which is already available to those going to and from the airport.
Taxi Services at Nantes Atlantique Airport
There are several taxi services available at Nantes Atlantique Airport. Any questions about these offerings can be answered by visiting the airport's website or calling them.
Several different taxi services provide rides from the airport to downtown Nantes. A taxi can be reserved or caught on the fly. You should only call a cab from a designated taxi stand. See more information about taxis at Nantes Atlantique Airport.
There is a possibility that credit cards will be accepted, but having some euros on hand is usually appreciated if you need to tip your driver or pay for incidentals (like help with luggage).
Trains Services at Nantes Atlantique Airport
The Nantes tram is a great way to get around town without adding unnecessary gas emissions. Those taking advantage of the system may count on a safe and pleasant ride. There are several ticket prices and types to choose from, making it simple to pick the most economical alternative. More information about train services near Nantes Atlantique Airport.
Bus Services at Nantes Atlantique Airport
Multiple bus routes connect the airport with the surrounding area. Transportation options at the airport include public buses, private shuttles, and taxis.
The airport shuttle bus runs continuously from early morning till late, every 30 minutes. You can buy tickets from the bus driver or the ticket booth in the terminal's arrivals area. More information about buses to and from Nantes Atlantique Airport.
Hotel Shuttle Services at Nantes Atlantique Airport
There are several shuttle services available between Nantes Atlantique Airport and local hotels. The hotel staff should be able to propose one of several companies that provide this service. Typically, shuttles operate every 30 minutes. They're convenient because you won't have to worry about finding a method to get to your hotel.
Parking Services at Nantes Atlantique Airport
The parking facilities at Nantes Atlantique Airport include short- and long-term lots and an accessible parking lot to accommodate passengers with special needs. The automated machines at each parking lot accept cash and credit/debit cards as payment.
The airport provides valet parking and VIP Parking for customers who prefer a higher level of service. Both can be reserved over the Internet. To learn more, visit our parking information page.
Other Services at Nantes Atlantique Airport
The airport also offers a range of services and facilities for passengers, including shops, restaurants, bars, and a duty-free zone: ATMs, currency exchange facilities, and stores selling clothes, books, and other souvenirs.
Wi-Fi at Nantes Atlantique Airport
Nantes Atlantique Airport offers free Wi-Fi to all passengers. Select the available network on your device and enter your email address to connect. Once connected, you can browse the web, check your email, and stay connected.
ATMs at Nantes Atlantique Airport
ATMs allow you to withdraw cash in Euros 24/7. There are 5 ATMs throughout the airport at the Arrivals, Departures Halls, and near Check-in Desks.
Currency Exchange at Nantes Atlantique Airport
Nantes Atlantique Airport has a currency exchange office from 8:00 am to 8:00 pm and offers a wide range of currencies. You can also buy foreign currency at most banks in France.
Nursing Mothers Station at Nantes Atlantique Airport
The nursing mothers' station provides an essential service for mothers traveling through the airport. It is a safe and clean space where they can take care of their and their baby's needs.
Restrooms at Nantes Atlantique Airport
Restrooms at Nantes Atlantique Airport are in three different areas. The first restrooms are located near the check-in counters and are available to all passengers. The second set of bathrooms is located near the security checkpoints. It is only available to passengers who have cleared security. The third set of toilets is in the departures area. It is only available to passengers who are departing on a flight.
Food and Beverages at Nantes Atlantique Airport
Nantes Atlantique Airport has a wide range of food and beverages for passengers. Several restaurants, cafes, bars, and a few vending machines are located throughout the airport. The restaurants offer a variety of cuisines, including French, Italian, Chinese, and fast food.
There is something to suit every taste and budget. The cafes offer a selection of hot and cold drinks and light snacks such as pastries and sandwiches. The bars serve alcoholic beverages such as beer, wine, and spirits.
Shopping at Nantes Atlantique Airport
Shopping at Nantes Atlantique Airport is a breeze, with so many options to choose from. Whether you're looking for souvenirs, duty-free items, or just some snacks for your travels, you'll find it all here. The airport has a wide variety of shops to explore, and there's something for everyone. Be sure to allow plenty of time to browse before your flight.
Smoking at Nantes Atlantique Airport
Nantes Atlantique Airport is a smoke-free zone. Smoking is prohibited inside the terminal building or on the airport grounds. There are designated smoking areas outside the terminal. However, these are still subject to the same no-smoking rules as the rest of the airport. You may be liable for a fine if caught smoking in a non-designated area.
Lost and Found Section at Nantes Atlantique Airport
If you have lost an item at the airport, please go to the Lost and Found section from 8:00 am to 10:00 pm. When filing a claim, please be sure to include a detailed description of the lost item, as well as your contact information. Please note that it may take up to 30 days for your claim to be processed.
Ticketing Services at Nantes Atlantique Airport
Nantes Atlantique Airport offers a wide range of ticketing services to its passengers. The airport has dedicated ticketing staff who are always ready to assist passengers with their queries and concerns.
The airport offers both online and offline booking facilities for its passengers. Passengers can book their tickets online through the official website of the airport, or they can contact the ticketing office directly.
Information Desk at Nantes Atlantique Airport
Please do not hesitate to visit our information desk if you need assistance during your stay at Nantes Atlantique Airport. Their friendly and helpful staff will be more than happy to answer any of your questions or help you with anything you need.
Pet Relief at Nantes Atlantique Airport
Nantes Atlantique Airport is pet-friendly, with designated relief areas for four-legged travelers. Please approach the information desk if you have difficulty locating its exact location.
Baggage Claim at Nantes Atlantique Airport
Baggage claim at Nantes Atlantique Airport is located on the airport's ground level. There are three carousels for arriving flights and one for departing flights. The carousels are equipped with LED screens that display flight information.
Disabled Passengers at Nantes Atlantique Airport
Nantes Atlantique Airport is committed to providing high service to all passengers, including those with disabilities. The airport has a dedicated team of staff trained to assist disabled passengers with their needs.
Several facilities and services are also available at the airport to make the journey more comfortable for disabled passengers, including:
Special assistance points are located throughout the terminal building
A dedicated team of staff trained in assisting disabled passengers
Wheelchairs and other mobility aids are available at the request
Accessible toilet facilities are located throughout the terminal building.
Useful Contact Details
Knowing how to contact the police or medical services is crucial in an emergency. The emergency number for the police and medical assistance in France is 112. If you are in a situation where you need to contact one of these services, dial the numbers, and someone will be there to help you.
Nantes is a beautiful city in France with plenty to see and do. However, as a first-time traveler, you should take certain safety precautions to ensure a safe and enjoyable trip. Here are some safety tips for first-time travelers in Nantes, France:
Be aware of your surroundings and watch pickpockets. Nantes is generally a safe city, but like any other place, there are always opportunistic criminals looking to take advantage of unsuspecting tourists.
When using public transportation, such as the tram system, keep your belongings close to you and never leave them unattended.
If you're going to be walking around at night, stick to well-lit and busy areas. Avoid isolated alleyways or shortcuts through parks or other deserted places.
Keep copies of essential documents (passport, travel insurance information, etc.) in case of an emergency or if your wallet/purse is lost or stolen.
Familiarize yourself with the local emergency numbers before you travel so that you know who to call if you need assistance while in Nantes.
Hospital
University Hospital of Nantes (Centre hospitalier universitaire de Nantes)
Address: 1 Pl. Alexis-Ricordeau, 44000 Nantes, France
Phone: +33240083333
Coordinates: 47.21138776693084, -1.5536826290812182
Police
Central Police Station Nantes (Commissariat de Police Central de Nantes)
Address: 6 Pl. Waldeck Rousseau, 44000 Nantes, France
Hours: Open 24 hours
Phone: +33 253467000
Coordinates: 47.2279562669842, -1.551424515811775
Nantes Atlantique Airport Contacts
Address: 44346 Bouguenais, France
General Phone: +33 892 56 88 00
Lost and Found Phone: (+33) 0 892 568 800
Information Desk: 0 892 568 800
Official website: https://www.nantes.aeroport.fr/en
Local Information
Drive on: Right
Electricity: 230V/50Hz.
Plug: E
Currency: Euro,
Wi-Fi at Airport: Choose the "VINCI Airports" network for free internet.
Services at Nantes Airport
Useful Information about Nantes Airport